Social Sentinel, Burlington Code Academy and Maureen McElaney Win Vermont Tech Jam Awards
Tuesday, October 23, 2018 (0 Comments)
Posted by: Jeff Couture


Social Sentinel, a Burlington-based company that identifies threatening content on social media, was among the winners of the 2018 Tech Jam awards, presented last Friday at the 12th Vermont Tech Jam. The prizes, given annually by the Vermont Technology Alliance, BTV Ignite and Seven Days, recognize leaders in the state's tech ecosystem.

Social Sentinel won the Innovation award. Burlington Code Academy, a 12-week coding bootcamp, won the Startup award after triumphing in the LaunchVT competition in the spring. Maureen McElaney, founder of the Burlington Chapter of Girl Develop It, is the area's top tech ambassador.

Each received a statuette of the Tech Jam mascot, handcrafted by clay artist John Brickels.
Tech Jam award winners from left: Maureen McElaney; Ben Boas and Alex Horner of Burlington Code Academy; Gary Margolis, founder of Social Sentinel


Also honored from the podium were the winners of BTV Ignite's first Reverse Pitch award, who each received a $10,000 grant to pursue their work. The prizes went to Code Shepherd, a teaching platform that brings subject matter experts, teachers and students together via a live video chat, and Learning Portals, which uses augmented and virtual reality technologies to let learners join classrooms and other experiences remotely — in the case of extended illnesses, for example.
"Both solutions show how gigabit internet infrastructures like that in Burlington can change the way we study, work and live," said BTV Ignite executive director Dennis Moynihan. "I hope with the support provided by these grants, both Code Shepherd and Learning Portals will one day be deployed to break down geographic barriers for education throughout Vermont."
The awards ceremony was the culmination of a busy day at the free career and tech expo organized by Seven Days and presented by Vermont Works, an independent alternative investment firm supporting Vermont's job and economic development. Representatives from more than 50 companies and colleges talked with hundreds of attendees who walked the expo floor. Meanwhile, workshops and presentations in the conference rooms upstairs addressed artificial intelligence, building a career in Vermont and new innovation developments in Burlington and Springfield. Attorney General T.J. Donovan led a sold-out session on how to respond to a data breach.
Jeff Couture, executive director of the Vermont Technology Alliance, said he talked with job seekers from across Vermont and outside the state at the event, "including someone, suitcase in hand, who visited from North Carolina."
"Tech Jam was a fantastic forum for sharing our members' job openings, for individuals and businesses to discover our organization, and for us to shine a spotlight on a few of the leaders and innovators in Vermont's tech ecosystem by presenting the Tech Jam Awards," he said. "We met business owners and newly arrived remote tech workers who want to join the vtTA as members to connect with the tech community."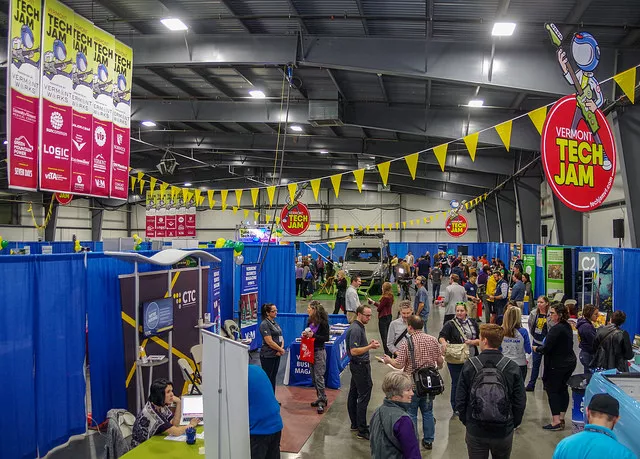 The Tech Jam was the final event of BTV Ignite's third annual Innovation Week. Said Moynihan: "Celebrating the links between our arts and tech community, attracting new investment, exploring emerging technologies like blockchain, and showcasing our innovators and entrepreneurs, Innovation Week shows how Burlington is emerging on the national stage."
Source: Seven Days