SymQuest Runs Interactive Campaign to Support Local Food Banks
Thursday, January 11, 2018 (0 Comments)
Posted by: Jeff Couture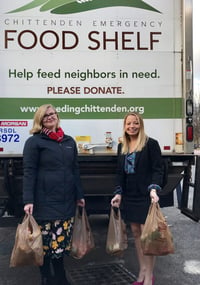 SymQuest Group, Inc., a wholly-owned subsidiary of

Konica Minolta Business Solutions U.S.A., Inc.

, and regionally based IT and office technology provider, recently contributed 971lbs of food to four Northern New England food banks as a result of its interactive Thanksgiving client appreciation campaign.
"Serving our neighbors is an integral part of our corporate mission," says SymQuest Marketing Manager, Christal Fleishman. "Addressing a community need through our annual appreciation campaign enabled SymQuest's clients to support a local food bank when donations were in highest demand."
SymQuest's annual Thanksgiving client appreciation campaign was conducted via email. Clients received a thank you video message along with a call-to-action button to donate $1 to a major food bank in New York, Vermont, New Hampshire, or Maine. A donation was then made to the food bank on the email recipients' behalf. Nearly 1000 of SymQuest's clients participated in this year's campaign.
Each month, SymQuest hosts charitable events and fundraisers to promote Corporate Social Responsibility (CSR). Past events included; toy drives, school supply drives, social media campaigns, and SymQuest's annual United Way corporate giving campaign. SymQuest support's non-profit organizations that are dedicated to environmental sustainability, human services, and poverty alleviation in their surrounding communities. To learn more about SymQuest's CSR initiatives visit www.SymQuest.com/Community.